Posted by
Chelsea
on
Sunday Oct 24, 2010
Under
Toddler
I have time to catch up!  Don't miss the post below about our fun trip to the pumpkin patch!
We had a big and momentous milestone this weekend-Lucy moved into her big girl bed!  It's really just her crib with the front part off and a bed rail on.  She can get in and out on her own though.  We decided it was time to make the move when she started standing on top of her front rail and yelling "HANDS! HANDS!" so that we'd give her our hands and she wouldn't fall.  We thought it might be a good time to switch over before she actually fell.
Here's Lucy, very seriously sitting on the edge: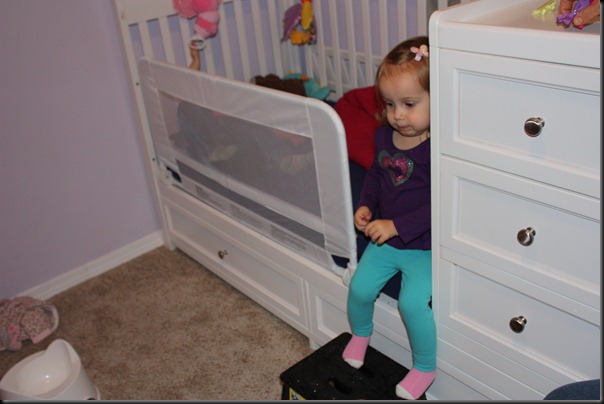 I you look closely, you'll notice Tessa is in the bed too.  That's because they were doing this: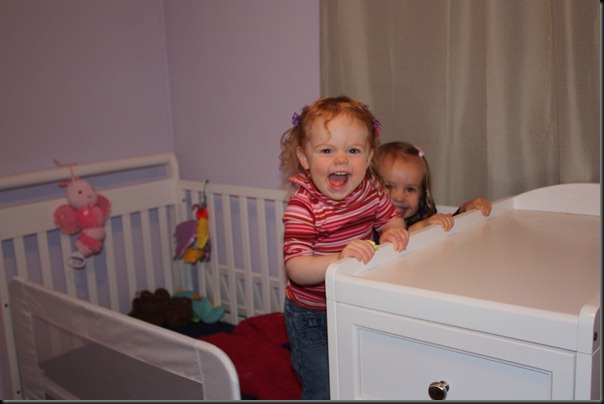 They jumped in the "Big Girl Bed" for about 30 minutes before dinner tonight.
They are so cute together.
Lu slept great in her bed the first night –over 12 hours.  She took a 3 hour nap today and then easily went down tonight.  Let's hope this continues!
Lucy also took her first bubble bath this weekend!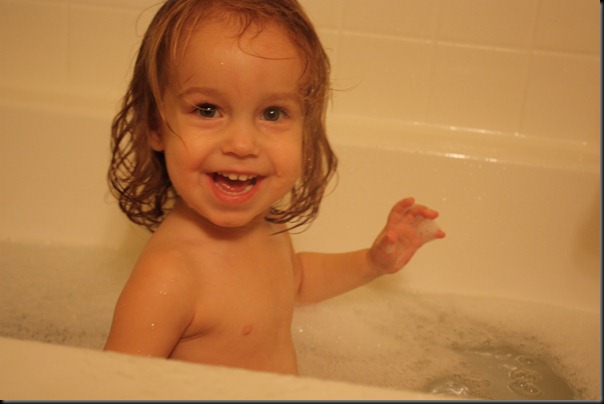 Her skin is very sensitive so finding bubble bath that would work has proven to be challenging.  Auntie 'Laina and Uncle Richard managed to find some for her birthday.  She had a great time!
As you know, Lucy has become quite the chatter box.  On Thursday she was in the car with Auntie Lala (my sister, Lissa) and she started saying "Boise, Idaho!"  So now when you ask her where she's from, she'll tell you. We think she got this from school?  Who knows!
She also LOVES Lady Gaga.  We have dance parties and anytime there is music on she asks for Lady Gaga.
As I mentioned above Lucy is going to "school".  This week she starts going to daycare 3 days a week.  The other 2 days she'll be with Tessa and their sitter Farida.  I only had care for 24 hours a week and it was proving to be too difficult with my full time job.  I found an AMAZING daycare here (after leaving several in tears) and Lucy LOVES it.  She gets very excited about school and tells us all about it when she gets home.  She went one day a week the last two weeks but this week starts her new schedule.  They have a class pet, a Guinea Pig named Lenny, they have music class on Wednesday, they have a learning statement everyday and learn a new ASL sign everyday.  Lu now knows "tree" and "leaf" in sign language.
Here she is on her first day: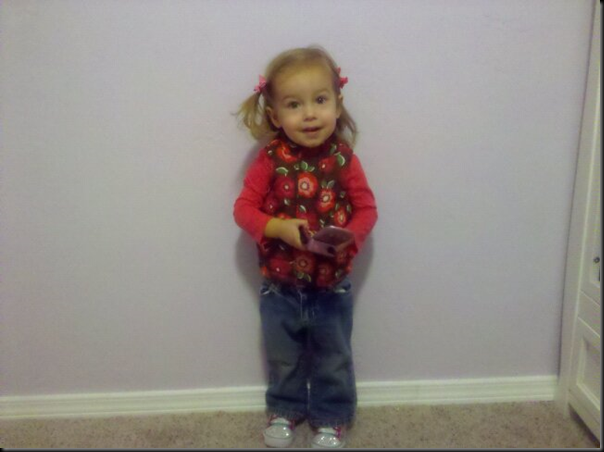 They LOVE her at school and asked if she's always so well behaved.  I told them that she is a good girl but she's also 2 and as soon as she's comfortable, I'm SURE they'll see some of that come out.
What else?
She's become OBSESSED with dolls lately.  Her two favorite she has named "Mo" and "Bow".  Yes really.
She's also OBSESSED with the necklace that her Gram and Pop sent her for her birthday.  She puts in on everyday and only takes it off to go to bed.  It has a special place in her bedroom so that she doesn't lose it.  This girl can accessorize!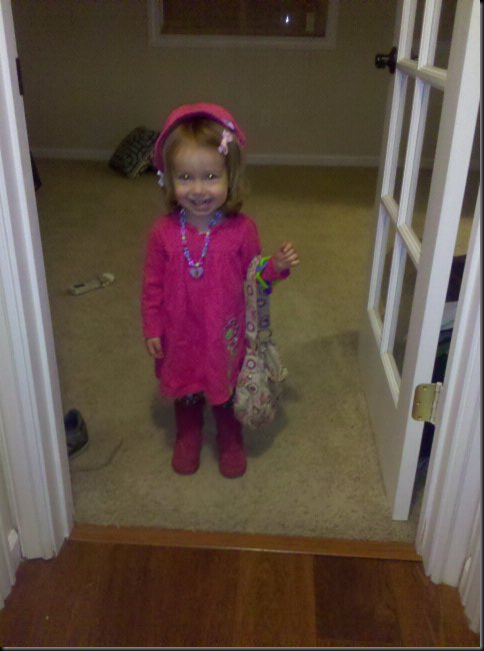 I picked out the clothes and she picked out the hat, bows, necklace, "bracelet" (an old rattle that is now a bracelet), purse, and boots.  I think I need to take a lesson from her!
In other news, she's a counting super star.  She can now get up to 9 on her own.  Sometimes she goes out of order but most of the time she can go right up to 9.  Her sentences and story telling are getting more complex but she difficult to understand.  *I* can understand her, as can most of the people that see her everyday, but most people probably think she's talking in gibberish. 
Her memory is also amazing.  She remembers stuff that is just crazy.  Farida is constantly commenting on how she can't believe her memory.  If you tell her that she gets to do something after nap? She remembers.  If you tell her steps of what you're doing, she remembers.  On Mondays, I have soccer and Shaun bikes to work. I'm supposed to drive Shaun's car so that we can take his bike home in the car.  Last Monday, we went out and I got in my car and Lu said, "No Mama, Daddy's car!"  I thought she was just being bossy, nope, she was right.  Shaun had to ride home in the dark that night. Crazy I tell ya!
We love our little Lu and can't believe how fast she is growing (I think I say that every time I post).
Tags : | 2 comments