Dad's Profile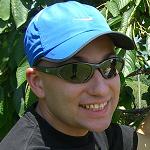 Name: Shaun Titus
Age: 27 (+2)
Occupation: IT Manager
History
I was born and raised in Harveys Lake, PA along with my three brothers Larry, Rick, and Jerel. I moved to the Washington DC Area at age 20 where I met my lovely wife at age 24. At age 26 I moved to California and promptly got married.
Interests
I enjoy many outdoor activities including mountain biking, camping, hiking, kayaking, sport kiting, running, skiing, and more! My favorite thing right now is mountain biking which may become more challenging to find time for after Lucy is born. However, Chelsea promises we'll find a way so that I can keep my passion alive.
What's Up With Lucy?
The name Lucy comes from the XM satellite radio 90's alternative station I listen to. One morning amongst many naming debates I woke up and thought… Lucy Titus sounds good. Chelsea thought so too… so here we are at LucyTitus.com!