Mommy's Profile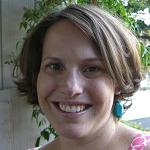 Name: Chelsea Titus
Age: 27
Occupation: User Experience Designer
History
I was born and raised in Bakersfield, CA along with my sister Lissa and two brothers Ben, and Jake. I moved to Washington DC after graduating from UC Santa Cruz in 2003. A year later a once in a lifetime job opportunity brought me back to the Bay Area and I was lucky enough to have the man of my dreams follow me. We were married a year later.
Interests
Shaun introduced me to biking early on in our relationship and I fell in love. I combined that with my love of running and history of swimming to become a triathlete. In 2007 I completed the Ironman Couer d'Alene-it was my one big goal before getting pregnant. When I'm not pregnant, I teach spinning at the local gym. I also love nutrition, cooking, and knitting-I really love knitting!
Becoming a Mommy
My whole life I've wanted nothing more than to be a Mommy. Words cannot describe how overjoyed I am to be carrying Lucy and how excited I am to finally meet her. I love her so much already and can't imagine how much I'm going to love her once she's in my arms. I feel so incredibly blessed that her Daddy is the love of my life and such an incredible person.